HIGH FIVE FRIDAY 28 February 2014
CLOUDS 27 February 2014
RECENTLY we made two custom colour CLOUD's for a client. They're going into a restaurant up in Nelspruit. We're waiting on delivery times - there was a delay with their renovations or something. So currently these beauties are sitting in our clean workshop, allowing the scent of the Danish Oil that we use to seal them to dissipate. The colour is Pantone 185 C - a lovely warm red that is just slightly pink. Just gorgeous!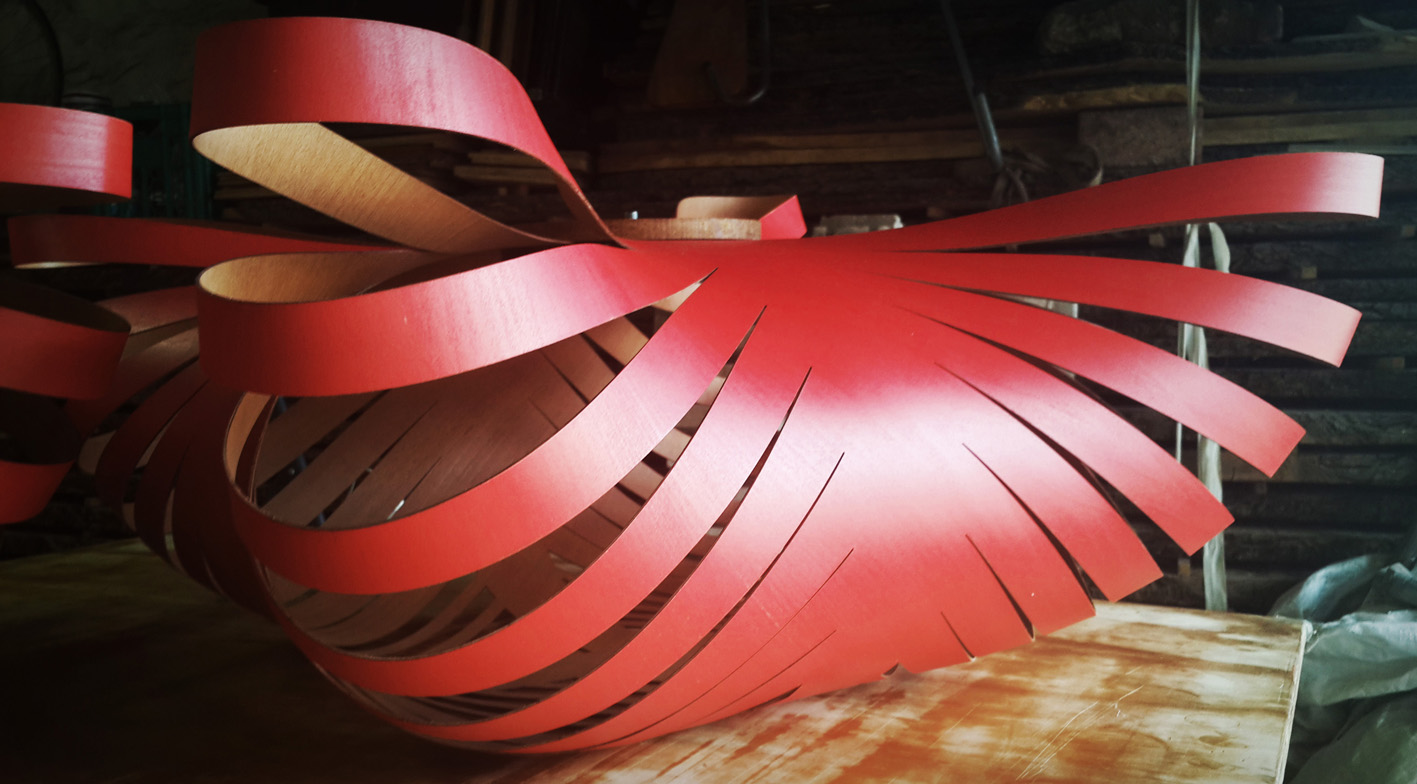 Entry from Antonia:
BOOKS ON SHELVES 26 February 2014
"LAST week Friday (21 Feb) I took friends/family visiting from Zurich off to Tshebidisano Primary (in Pimville, Soweto) to show them the MicroSeed library (and our furniture). The principal Philip is very proud of his school, Pam (the librarian) is fabulous and the kids were AMAZING. Felix & a whole group of kids spent some serious time playing cops & robbers. Pam tells me that there is an event happening soon so we'll be visiting in the near future."
THREADS 25 February 2014
So, the SMILE is finished. We're delivering it to our client later today. Antonia looked at it and looked at it and after discussion we both agreed it's finished. We think it's one of the nicest we've made.
THREADS 20 February 2014
THIS week we've spent some serious time finishing this SMILE threaded poster for a client. It's not quite finished. Antonia is debating colours. She likes to look at a piece for a bit before she okay's it. Wants to make sure that the lines, the colours, the textures work together. We'll post the final pics when it's done.
Entry from Antonia:
INSPIRATION 19 February 2014
"THANKFULLY I live a life (and in a house) where many things are always on the go, many things getting built, planned, etc. One of these things are the three Honda CB400N & two CB400T bike chassis in the driveway getting stripped and the four Honda engines half way built in the garage. Lets be clear - I am in no way building these bikes - but I am in charge of putting together the colour choices. In the end the guys want a road bike and a tourer (off road) each.
So some online searching later led me to this bike site. It's got some lovely pieces, but the pic below is my favourite. In terms of everything. Colour choice, design, styling, plus how they posed the bike for the shot."
Really cool. Check out: http://www.bikeexif.com/
"While in Cape Town in January I visited the Franschhoek Car Museum. I might have been sore, hungover from a wedding, stiff from too much dancing and suffering from heat stroke (it was so damn hot), but it was amazing. Yes. I love cars. A lot."
Entry from Antonia:
FONT PLAY 12 February 2014
"HAVE some free time. Will play. Hence pics below. The first two pages are throw away - they're what you purge before you start getting anywhere. The third page has the solution on it, the last has the final drawing. Simple, really, for 20 minutes of scribbles."
COLOUR COLOUR COLOUR 12 February 2014
YELLOW cones fresh from the most awesome Powder Coating company, ever. It really is wonderful working with fantastic suppliers. They allow us the luxury of making stuff.
WORKSHOP TIME 10 February 2014
PREP time on the first stage of various products that we make.
Entry from Antonia:
FORM 4 February 2014
"AFTER cleaning the workshop we had a few CLOUDS that had broken in the finishing stage of their making. It's soul destroying when that happens, but even worse when you have to disassemble them. So late yesterday I was looking at them lying in the bonfire pit, these broken things that once were so close to their finished beauty. They looked so forlorn. I don't know what made me break the strips off by hand. Then I went into the workshop, drilled a 11mm hole through the ends. In one go, of course, WHO drills individually if you don't have too, and started playing. This form would be the beginning of an idea. Just the first stage of how we can make this into something new."