HAPPY CLOUD 26 May 2014
This light teal interior, natural exterior CLOUD went off to it's new owner today. We're sure it will be very happy in it's new home.
HIGH FIVE FRIDAY 23 May 2014
MAKERS MOTTO 22 May 2014
So we found this while unpacking a box. It's from back when we started designing our retail MOS product range in 2012. Endless possibilities & endless imagination can hamper actually making something. So just do it. Jump off that cliff. Try do the impossible. It's the difficulties that you'll meet along the way that make it fun.
WE'RE DONE UNPACKING! 21 May 2014
The lights are on. The posters are up. The workshop is coming along. We're starting to make the stupid-large workbench. Out of Oak. That's lying around. Now we just need to stock the fridge with beer...
SNIPPET'S OF A DAY AT MAKERS 20 MAY 2014
HIGH FIVE FRIDAY 16 May 2014
We're not going to lie. It was not an easy month. The whole of Johannesburg was down. Companies were on skeleton staff. Or closed. Or out. Or somewhere where we could not find them. Getting work out was like trying to reinvent the wheel using candy floss.
Though somehow we did manage to do work. A lot of it, in fact. So we're going to document what did happen in APRIL (and what we made) during the black-out month when everyone else was on holiday.
Big up to our suppliers, though. You guys made this possible. And we owe you several rounds of drinks. Several.
THE BIG LIGHT april rolling over into may
Our client approached us with their idea for an outside lighting installation. Lots of sticks. Lots of flowers/leaves. But there were some serious design considerations.
FIRST: weather. This was a biggie. It'll be undercover but outdoors, in a coastal region but bordered by a desert, so dry but also hot & humid. The range of temperatures we had to accommodate was between 5 to 50. This made our choice of materials very tricky.
The materials had to withstand extreme heat, non-perishable and create a similar glow of light (like in the ref pictures).
SECOND: transport / size. The final installation is 8300 x 3200mm. It's large. So what ever we designed needed to be 'manageable' when it came to installation. We couldn't send crates & crates of stuff.
We eliminated the use of fairy lights, fiber optics, bi-pin halogen and LED's (running off a driver). In every case their workings / operational capabilities would/could not withstand the conditions or deliver on ecological grounds. Nor could we get guarantee's on their lifespan which would make them feasible to a client.
We settled on using a retro-fit LED 5 watt bulb and an E14 German made lamp holder. In the working conditions specified we were given a 2 year guarantee on the bulbs & 5 on the lamp holder.
THE FIRST PROTOTYPE the aim for the main flower was to hide the bulb from direct sight. We tinkered with the drawings several times as the anodising process would inform drastically on what we could & could not do design wise.
We selected aluminium as the material to make the flowers. Although it reacts to heat by expanding we could prevent the colour from cracking over it's long life-time by spec-ing the outdoor 25 micron grade. This allowed us to bring a selection of colours to the design. Although the anodising process is not ecologically sound, it does not affect aluminium's 100% recyclable capability.
THE SECOND PROTOTYPE was cut to hold our selected E14 lamp holder & bulb.
THE THIRD PROTOTYPE was colour selection only. We had chosen three different hues of the same colour. In these pictures you can see the brushed aluminium with the darkest hue in the matt finish. We wanted this for the lamp holders to soften the light (and warm the ambient colour drastically).
So we gave the go ahead.
In the meantime we were prepping everything else. We chose an invasive plant as the wooden element. We mixed different widths, bends & colours over all 9 panels to create a rippling organic effect.
We received the first batch of flowers. We cut 2000 flowers (2 sizes) and 200 lamp holder flowers.
AND then there is us attaching the 2200 flowers onto the the nine panels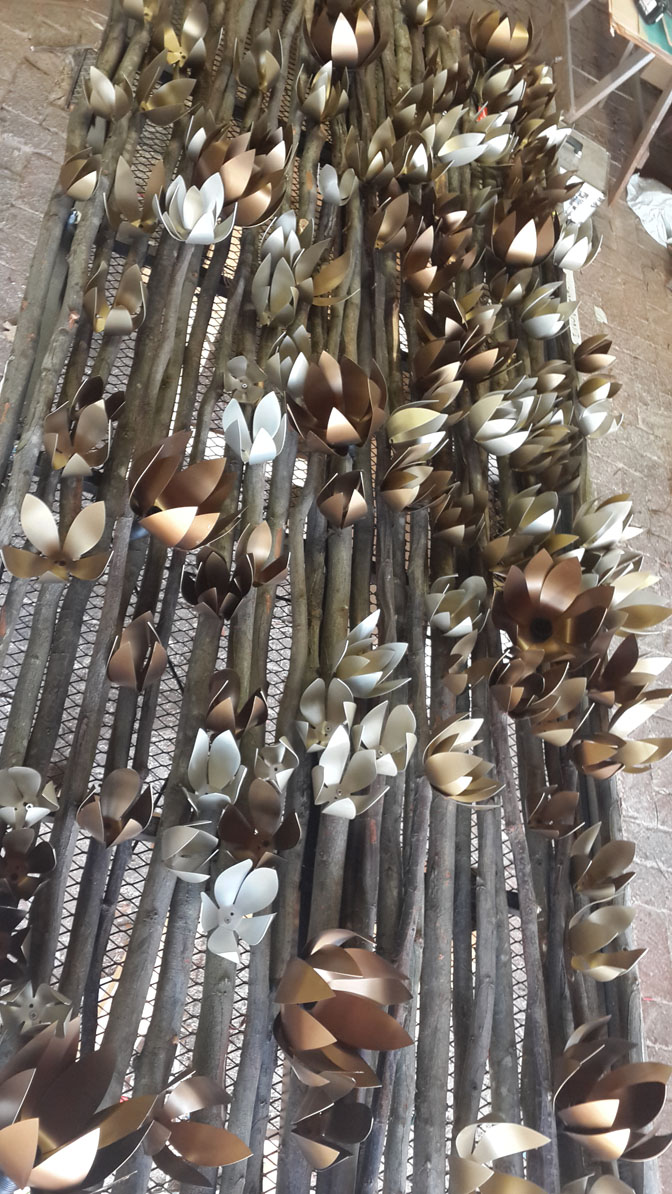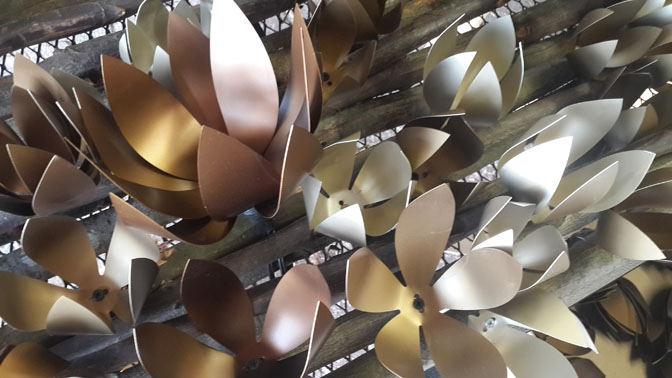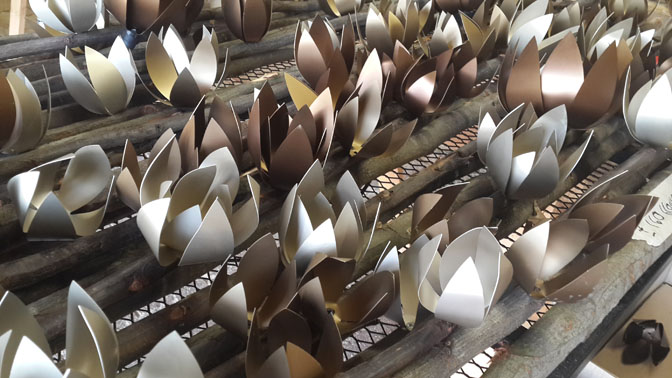 AND then there was the packing into the crates, and getting the crates onto the trucks, and then sighing a great great sigh of relief.
So, YES, that is how you build a really really large light in a month of Sundays.
THE WORKSHOP / OFFICE also in april
We also finally had the time (while waiting on the different stages in the BIG LIGHT project) to finally install and organise all our stuff. Okay. So we're not 100% unpacked. But we're a lot closer.
THE WORKSHOP all kinda ordered and stuff. Since this photo was taken those shelves are seriously stacked.
and THE OFFICE... now all we need to do is hang our lights. Which we'll get on to, soon. And we need to put a tool board up in here as well. And the LIFE IS FUN. And the other stuff. But Greta is there, guarding over us.
GRIND CAFE umhlanga
So, here are some pictures of the new cafe that's just opened up in Umhlanga. We sent down 7 of our solid copper CONES. And they look just fabulous!
GRIND CAFE 3rd Floor / Comit Technologies (PTY) Ltd / Liberty Towers / 314 West Street / Umhlanga / Durban
DNA INTERIOR DESIGN Project Management / (031) 573 - 1163 / www.dnainteriordesign.co.za
OTHER things that happened that were inspiring and helped us through the slog...
Last picture Hannah Paton © copyright